Spring 2020 will be recalled by all who read this as the surreal season of sheltering to protect ourselves and our friends from the spread of the COVID19 virus. The world is out of work, out of money, and out of the cultural pleasures we long to resume but probably won't for months or a year to come. I'm not alone in missing museum-going.
Though the museums be closed (or take your chances: Indianapolis is open), many are still providing for art lovers in the best ways they can. Peering at the computer screen, we don't have to wait in line, overhear a chattering self-appointed critic, or huff at the extravagant price for a simple refreshment.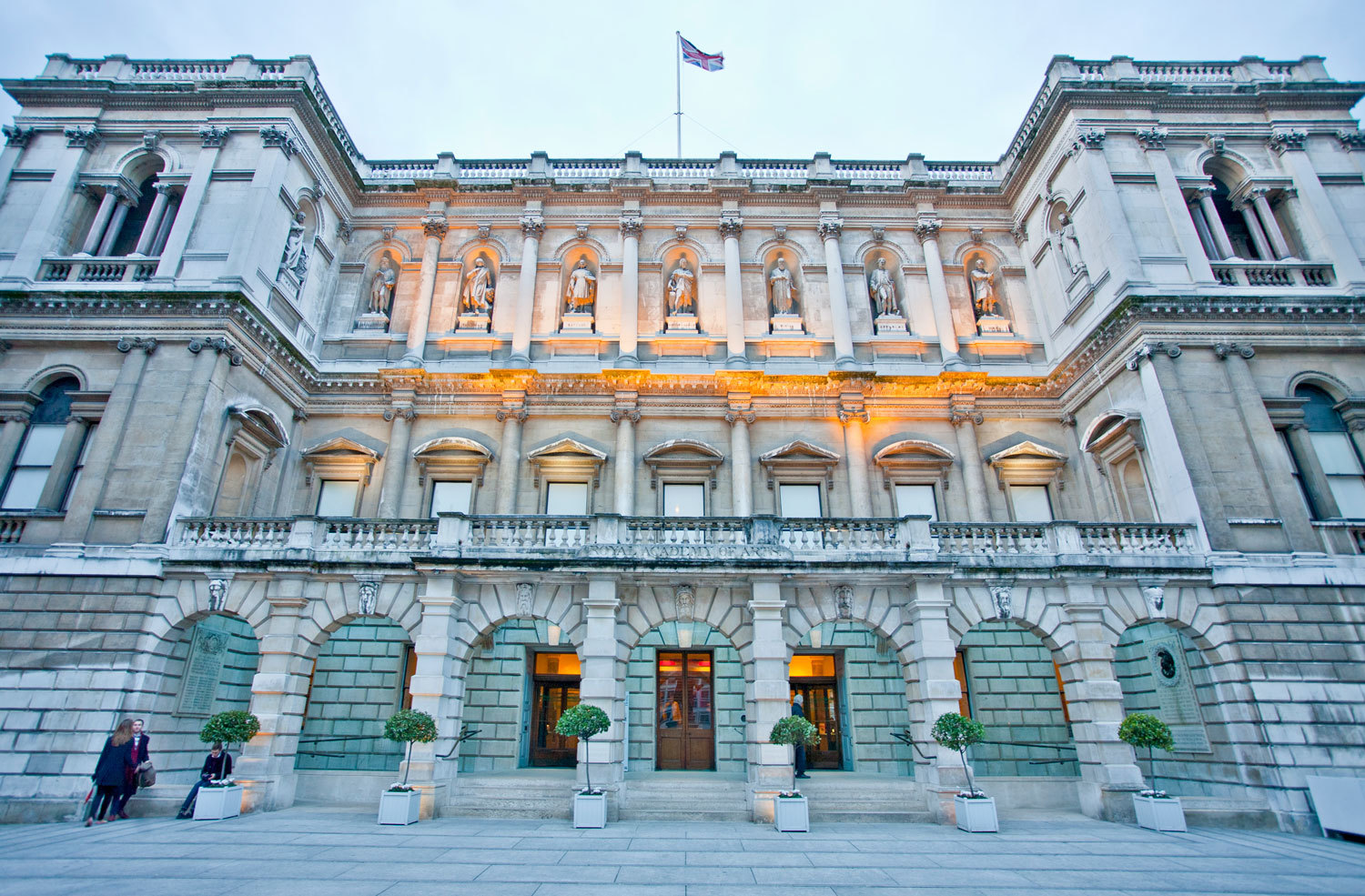 Royal Academy of Arts, London.
Many art museums
now
offer us via the Internet in-depth experiences we might otherwise overlook: closer looks at shows and individual works presented by curators or connoisseurs; commentaries by artists; oral and pictorial essays that make unexpected connections. We can travel much farther than we do with gallery labels skimmed on the fly in shows too big to digest. All that I'm learning now, I'll plow back into my viewing when museum doors finally open again.
I'm concentrating on museums I'd love to visit but can barely dream of seeing any time soon. From London, the

Royal Academy

website yields rich rewards from the scholarly to the amusing. From the homepage, we can access "Picasso at Home," a literal galley tour of the Picasso on Paper show, or visit "Artists in Isolation," reflections by Ai Wei Wei and others about the state of seclusion. Farther down the page is "Go for Walkies through our collection," which leads to a wonderful, often light-hearted feature of 250 objects (with notes) in the five categories of dogs, doodles, self-portraits, and representations of war. There's a list of films about artists available from streaming services.
A fantastic feature of the RA site is "Art and Artists" in the top ribbon on the home page. From there you can search for any artist you wish to explore in their collection to find samples of their work, with notes, biographical information, bibliography and a list of holdings. A lot of fun here is the page with a large collage of works from many periods in many media and styles, drawn from across the RA collection. Click on one of these pictures to be led to a page where it's
featured and linked to works by the same artist, works of similar shape, and others on the same theme. These take you down several paths: It's an ideal way to wander the collection, and a delicious device for pleasant idling an otherwise dull afternoon
San Francisco MOMA from Yerba Buena Gardens
The San Francisco Museum of Modern Art

welcomes us with open arms. Its home page is simply, "Museum from Home," and everything on the site is geared directly to the art-hungry house-bound. There aren't references to local installations that you couldn't and won't see: It's all immediate and ready to hand to you, hungry at the curbside. There are lots of "Artist cribs" videos of about two minutes each, tiny studio visits like "

Tony Oursler's Multimedia Madhouse," and "

Jim Campbell's Illuminated Studio," wherein the artist experiments with LED lights. These are very diverting and well-made. Longer and more searching is their "Focus on Japanese Photography," based, it appears, on an exhibition catalogue. Five artists are presented with long bios and images of all of their works in the show. There is a video interview with each.

Naoya Hatakeyama tells us that underneath Paris lie limestone quarries with collapsed ceilings that generated his Fallen Sky series.

Ishiuchi Miyako explores scars as ways to stop time. The experience of the entire show is haunting.
Among the materials at our fingertips at SFMOMA is the remarkable Rauschenberg Research Project. Scholars of the artist undoubtedly know it well, but newcomers will be absorbed by this catalogue of 88 works completed between 1949 and 1998 with overview commentary and histories of exhibition and ownership. The images can be greatly expanded and studied in detailed sections. When you come back to the "Museum from Home," there is a panoply of new wonders. At "Beyond the Canvas," you'll find many great interviews—Judy Chicago on the female aesthetic, Kristina Kubisch on discovering new sounds, and Ellsworth Kelley explaining abstraction— among the many.
Portland (Oregon) Museum of Art
Fine art and film alternate from day to day on the Daily Art Moment on the site run by the
Portland Art Museum with the Northwest Film Center
.
PAM invites you to the event of the day, alternating images with films. If you miss a day or wish to indulge in a week's worth of viewing, there's an archive that allows you to browse past highlights. Before you go back though, there's the opportunity to see today's featured work in the online collection or an online exhibition where you'll get to appreciate more about the artist and their place in their genre and time. At the moment of this writing, the featured work is a poignant black and white image of wounded sailors by Victor Jorgensen, which can lead the viewer into a show of his work with the Naval Aviation Photographic Unit in the South Pacific. Also featured so far: Carrie Mae Weems, Katherine Bradford, Rajendra Roy, and many terrific Northwestern film artists like documentarian Julie Goldman, an executive director of Ai Wei Wei: Never Sorry, and Amy Dotson, a creator of the series Ozark. All the film and television entries give links, so they can be watched or streamed. Portland's site is more direct and succinct than some others, and takes less hopping from page to page.
The Frick Collection, New York
A trip to the

Frick Collection

in New York City always makes the heart sing. They haven't done much in particular to call in the coronavirus visitor, but it is very easy to use their menus to access their world of beauty and connoisseurship. If you click on "Exhibitions" on the home page, you can click on "Virtual Exhibitions" on the next to be led to a great array of shows. In each, you can, if you wish, wander the galleries using navigation tools, should you be more adept than I at using them. You can click on objects to get closeups and commentary. Unless you are particularly interested in the installation, though, and wish to see "Whistler as Printmaker," for instance, a left sidebar will offer you all the show's images, associated lectures, a glossary of printmaking terminology, and other features. A truly exceptional series has begun in "Cocktails with the Curator." In this COVID19-inspired series, the head curator, Xavier Salomon at home in his lounging robe, discusses a great painting at the Frick while the viewer shares a cocktail a home, the drink having been suggested the week before (week one: a Manhattan). The setting is grand and fun, and his fifteen-to-twenty minute disquisition focused on the background and details of the painting is truly illuminating. So far, we've discussed Rembrandt's Polish Rider, Bellini's St. Francis in the Desert, and Van Dyck's Sir John Suckling.
Frick Collection gardens
Museum sites cannot reproduce their works life-sized, and we cannot enjoy the great spaces that live visits offer. But I'm finding that on-line visits are satisfying. I'm feel like I'm lucky to learn in pleasant settings and by my brief lectures from scholars and curators who can deepen my art experiences. I'm learning not only about works, but about conservation, curatorship, and artists' thoughts and experiences.
While we have a lot to learn and to enjoy on museum websites during these long weeks and months of quarantine and sequestering, the museums themselves are without ticket sales and new memberships; fundraising is at an ebb too. What will museums be when they are allowed to open again? Will all the new digital content be the permanent new face of the museum? Will videos and virtual tours satisfy us in the long run? They are opening new doors to my appreciation of museum holdings and my understanding of artists, their works, genres, and times. I hope these will be permanent features. But let us hope that the institutions behind our screens flourish and fling wide their doors again. Let's trust that we will enter again museums that remain something like the ones we left. I doubt they will ever be the same. In the meantime, though, we can continue to keep our appetites keen on the rich digital resources with which they continue to lure us in.
_______________________________________________
J
ust a few more interesting sites:
https://www.youtube.com/watch?v=yf7jAF2Tk40&t=20s (New Jim Crow Museum of Racist Memorabilia)
https://www.warhol.org/ (Andy Warhol Museum)
https://blog.cmog.org/ (Corning Museum of Glass)
https://www.morganconservatory.org/ (Morgan Conservatory: paper making and related paper arts)
https://www.artic.edu/visit-us-virtually (Art Institute of Chicago)
https://www.eastman.org (Eastman Museum: photography and digitized film)